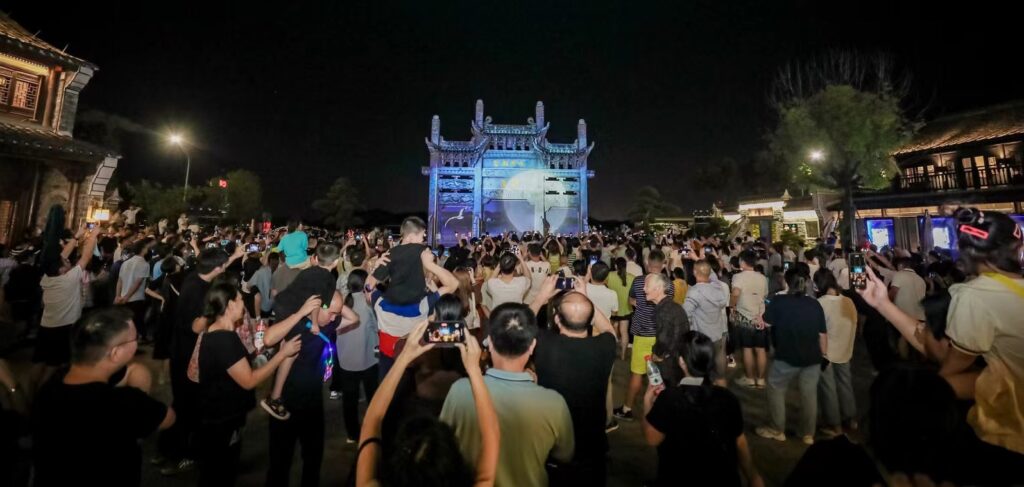 Ningbo City has a population similar to London (8.5 million) and 1/3 of London's GDP. Don't get me wrong, Ningbo is not a world center of financing and entertainment. But it can match almost all other aspects of economics of London's, and it is above all other cities in England. Ningbo has been an international center of industries and trading. It thus has a great potential to become a world center of consumer market and entertainment. In recent trend, most China domestic filmmakers and studios actually are incorporated in Ningbo.
In the world history, Ningbo matched Venice in Europe, as the east end of the sea route of the world trading. Its culture and economics flourished during Song Dynasty (960-1276 A.D.), made the largest urban economy of the world then. Back then Ningbo was the largest city in Jiangsu-Zhejiang Provinces where was the center of weight of Song Empire's economy. The current Zhejiang provincial government made Song its mostly promoted periodical local culture.
While we created and produced Song Rhythm On The Lake, a relatively smaller and simpler local venue, is the first public multimedia presentation of the Song period culture heritages, in the entire province. On its National Day debut, tourists liked it, local community proud of it, and the provincial government noticed it, becoming an instant hit.
About the audience of Ningbo population: On the debut evening, Song Rhythm On The Lake attracted 350+ thousand viewers on local social network. Our presentation hit number 4 on the day, of the most popularly viewed content (above ours, the most watched are: 1. COVID regulations for automobiles entering Ningbo City during the Holiday; 2. One case of COVID infection discovered in Ningbo daily report; and 3. An old man accidentally dropped into a well, ER arrived the location).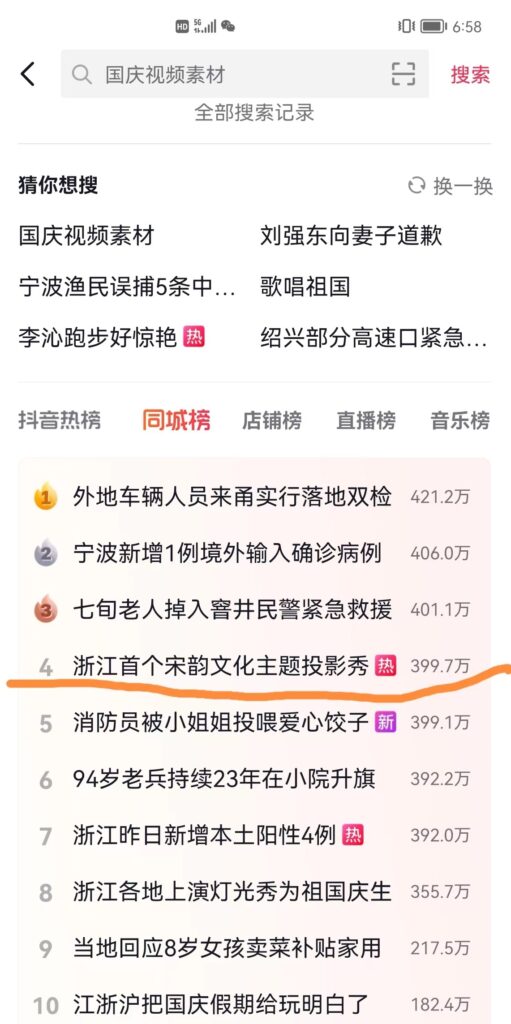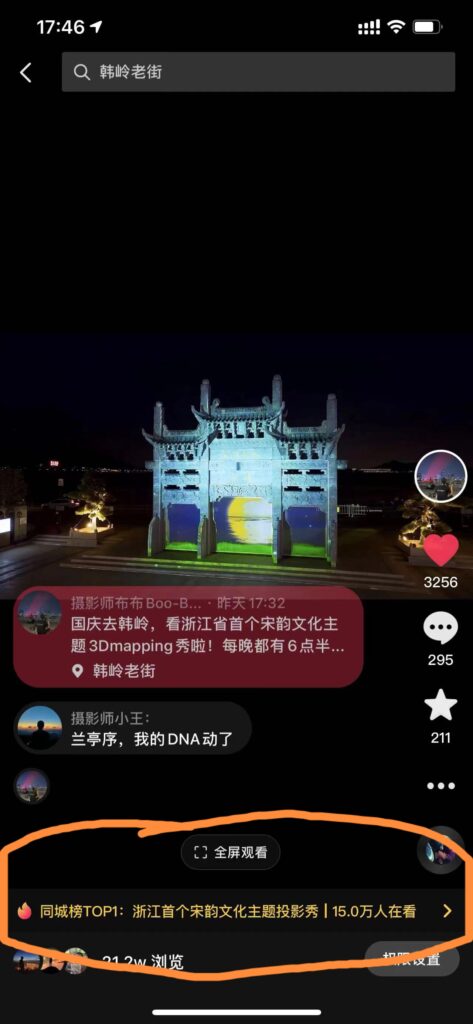 Song Rhythm On The Lake's creation and production was organized by five guests of Hollywood artists, who led a Ningbo local entity to take the contract. Through 8 weeks of production, remotely conducted by the Hollywood director (Craig Talmy, a veteran visual effect supervisor and animation director, with many Hollywood credits, also including a Chinese sci-fi Crazy Alien that made 2.4 billion CNY box office), made a magnificent contribution to a China local community. We practically overcame the COVID lockdown, economy slowdown, and geopolitical difficulties. Quite an achievement, but I say it is just a trial project went successful. With the persistence and patience (We registered a business in Ningbo, just happened to be in the eve of the world pandemic). It only has taken 3 years until made one thing happening in China. Our executive producer John P. Hughes came on-site at opening ceremony hosted by local government. He have been living in Beijing since the COVID lockdown, never could came back to Los Angeles since 2020, worried about re-entry China. Chinese team workers are in entry-level skills but with great enthusiasm. It was a handful job to the director. And our local producer Cai Lei (screenplay writer of Wild Wild World) is wonderful. She coordinated iterations of pre-sale efforts, proposals and bid, budgeting and subcontracting.
What we learned practically through the production of Song Rhythm On The Lake:
Following the title given by the district government and the ancient town authority, we learned local culture events during Song dynasty in Ningbo. Then artistically we blended these traditional culture elements with modern China pop culture elements. A good synergy that meets young-generation Chinese audience, that was a present local concern while promoting China classic culture and arts.
Purposely, we had an established animation director with experience led a Asian entry-level visual effect team (Grown Up 2), conducted this China effort. Through many iterations of works, hand-hold works, hands-on take-over works, he successfully coped with creativity and taste differences. The result proved the importance to have the artistic supervisor to lead and control locally grouped team functions, which is a common shortage in China visual art practices.
The low budget did not allow us to use at least a couple of skilled international visual artists for creation and production. We focus on efforts to maximize performance-cost ratio. The animation director has to put on extra works from Los Angeles, working day-and-night to cope with time difference. And Craig has also contributed sound-effect and music-mix, thanks his skills and experience proven by earlier career of sound studios and concert venues. If the budget allowed, otherwise we could have made a world-class product, which is not only to local audience's present satisfactory, but a sublimed presentation which is really worth for the world to watch and admire.
Passion about China: Here, our artists and managers strove to make a small and reasonable trial program. This is to inspire a greater opening to higher and wider local demands of world-class presentations, that we from Hollywood can further offer. Culture barrier is a commonly raised alarm for international exchanges. It is worth to make a small breakthrough. Facing magnificent world historic heritages, we are going to China, landed on the common ground of broader pop entertainment with a theme of Chinese. It is really not necessary to export China Western culture themes, but China market badly needs its own.
Multi-disciplinary of technologies: This project is only used entry-level skills. There is a huge space for local professional team to learn and grow. We provide designs, methodology, creations and production flow, for world-class Multimedia Mixed Reality (M3R) products and services, all needed are in one-stop-shop solution. With this talented group from Hollywood, we platform multiple production formats for entertainment on themes of China: projection mapping venues, motion graphic shows, immersive VR rides, digital marquee showcases and so on, many new media formats. Immediately, these can be made locally through virtual production, which is very trendily interested in China entertainment industry. In order to fulfill so, we have planned local high-skill training and train-on-job programs.